A new issue of our newsletter, KCL Insights, is now available.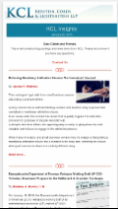 This issue includes articles on:
Enforcing Mandatory Arbitration Clauses
The Massachusetts Department of Reveue's AP XXX: Voluntary Disclosure Program for the Settlement of Uncertain Tax Issues
Mark Lichtenstein is the Attorney Spotlight
Real Estate is the Practice Group Spotlight
Please let us know if you have any questions. Not on our email list? You can Sign Up Here to receive KCL Insights by email.