I am often asked by entrepreneurs and start-up companies if it is worth their time and money to enforce non-compete agreements. As with most business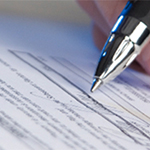 decisions, it is important to understand the pros and cons of non-compete agreements before answering the question. In this latest Innovator's Counsel update, I outline the current Massachusetts law and how non-compete agreements are typically enforced in the courts. This article is provided for your general information only. As with all legal decisions, you should consult an attorney about your specific situation.
What is a Non-Compete Agreement?
A non-compete agreement is a contract signed by an employee agreeing not to compete with the employer for a specified period of time, usually in a certain geographic location, after they leave the company. Non-competes are intended to prevent an employee from taking trade secrets and clients to a competitor after leaving a company. They generally include promises not to work for a competitor, not to solicit customers from their former employer and not to use confidential or proprietary information.
What if a Former Employee Violates a Non-Compete Agreement?
The primary legal means by which to enforce a contractual non-compete is through a request of the Court to grant a preliminary injunction, essentially enjoining (stopping) the target ex- employee from competing with the ex-employer pursuant to the terms of the non-competition agreement or covenant.
What do Judges Consider When Reviewing a Preliminary Injunction Request?
Judges first consider if the former employer has demonstrated that the agreement:
(a) is necessary to protect "a legitimate business interest" of the employer,
(b) is supported by consideration,
(c) is "reasonably limited" in all circumstances, including "time and space," and
(d) is otherwise consonant with public policy.
What is a Legitimate Business Interest?
Legitimate business interests that an employer may seek to protect include trade secrets, confidential information, and good will. A non-compete is not enforceable if it is merely trying to protect the employer from ordinary competition.
An employer is permitted to protect customers' names, addresses and other contact information through non-compete agreements.
Courts have also recognized that goodwill with its customers is a legitimate business interest that employers may protect through non-compete agreements.
However, non-competition agreements that provide for a blanket prohibition of an ex-employee from working for any other company that generally engages in the type of business as the ex-employer have been held to be unduly restrictive.
What is Reasonably Limited in Time and Space?
If a restrictive covenant is too broad in the time it restricts competition, in geographic area of restriction, or in any other respect, it will be enforced only to the extent that it is reasonable. The determination of the reasonableness of an agreement always turns on the specific facts applicable to the particular case. Covenants not to compete are divisible, and may be modified by a Court and enforced in their entirety, or in part.
Examples of terms that have been found "reasonable" by the courts include:
Three-year restriction within the acceptable range in terms of duration of a covenant not to compete;
If the geographic reach is limited to only the "areas in which the employee, during any time within the last 2 years of employment, provided services or had a material presence or influence;" and, in one case,
An employee's covenant not to compete with an employer within 100 miles of Boston for a period of five years was enforceable and did not cause "undue hardship" by barring the employee from earning a living. In this case, the court found that the geographic scope was reasonable where it coincided with the area in which the employer performed almost all of its work, and thus was specifically drawn to protect the employer's good will.
Protecting Your Business Interests
When reasonably tailored to protect your company's trade secrets, customer information and goodwill, non-compete agreements can help protect your business when a trusted employee leaves for another company. Courts in Massachusetts have demonstrated that non-compete agreements are enforceable when they are reasonable. This makes the technical drafting of non-compete agreements critical to your ability to enforce non-compete agreements. As with any legal matter, you should talk with an experienced business litigation attorney who can help you understand the legal implications of your business decisions.
READ MORE INNOVATOR'S COUNSEL BLOG POSTS: