Whether you are out with friends celebrating a promotion, catching up with old acquaintances or getting dinner with your significant other, being responsible with alcohol consumption is paramount. Unfortunately, that is sometimes easier said than done and mistakes are made.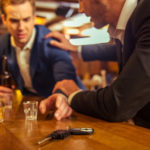 If you have been arrested and charged with Operating Under the Influence ("OUI") in the Commonwealth of Massachusetts, it's important to hire an attorney who understands the complex factors involved with OUI litigation and will leverage their experience prosecuting OUI cases to provide you with the guidance and advocacy you need.
While there are a number of factors that contribute to an effective OUI defense, such as whether or not an accident occurred, whether any witnesses observed signs of "impaired" operation, whether the police properly administered field sobriety testing, whether you have a prior arrest for OUI or whether you made statements to the police at the time of your arrest, the most important factor to an effective OUI defense is an advocate that understands the complexities of an OUI case.
A skilled defense attorney may be able to get your charges reduced or dismissed entirely for a variety of reasons. The case will need to be examined from all angles including whether there was probable cause for a police officer to stop your vehicle, whether the officer provided the required warnings about taking a breath test and whether the equipment used for your breath test was properly maintained and calibrated.
In the Commonwealth of Massachusetts, a first offense OUI conviction is punishable with fines ranging from $500 to $5,000, the suspension of your license to operate a motor vehicle, probation, and even up to two-and-a-half years in jail. Given the severe lifelong consequences an OUI conviction can have on your life, it is important to be represented by an attorney who knows how to get the best result possible.
For instance, depending on the facts and circumstances of the case, an individual charged with a first OUI offense has the opportunity to avoid a conviction by requesting an alternative disposition commonly known as the "24D Disposition" which requires, in part, an admission, a period of probation and successful completion of an alcohol education program, but does not result in a criminal conviction on your record.
There are some situations that are not appropriate for the 24D disposition or an admission and require an advocate with OUI trial experience to defend your rights. For instance, the Commonwealth of Massachusetts is still prevented from admitting evidence of a driver's Blood Alcohol Content ("BAC"), in most situations, and this lack of evidence is an important factor in deciding whether or not to admit to the OUI or fight for exoneration at trial.
If there are any comments or questions about this post, please contact Milton Kerstein at mkerstein@kcl-law.com.