Kerstein, Coren & Lichtenstein is pleased to announce that Neal B. Glick has joined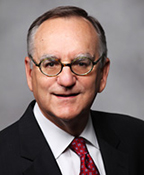 the firm as a partner. Mr. Glick's practice focuses on commercial real estate transactions, environmental law, development, zoning and land use matters, renewable energy, commercial lending and loan servicing. He will lead the firm's Environmental, Land Use, Permitting & Renewable Energy Practice.
"Neal's environmental law and land use experience further strengthens KCL's real estate and construction law practices. With more than 35 years of experience, he brings a wealth of expertise and insight to our expanding firm," said Milton Kerstein, managing partner at KCL.
Neal represents developers, land owners, lenders, and individuals in connection with a myriad of real estate transactions. He also advises solar hosts and developers, land trusts, individuals, design professionals and community groups on local, state and federal land use, environmental and renewable energy matters. His recent notable successes range from representing the developers of the largest solar canopy project in New England, obtaining a 7-figure judgment in federal district court on a "bad boy" loan guarantee, establishing and defending conservation restrictions, and uating and addressing zoning and wetlands compliance in connection with the purchase and financing of a major industrial property.
Prior to joining Kerstein, Coren & Lichtenstein, Neal was an environmental and commercial real estate attorney at several Boston law firms. He chaired the Business Law Group at Donovan Hatem, and created and chaired the Environmental Practice Group at Brown, Rudnick. He also served in the Office of General Counsel in the United States Department of Housing and Urban Development (HUD) in Washington, D.C. Active in the community, Neal served as a Trustee of the Boston Architectural College, and as a Member of the Planning Board and the Wetlands Protection Committee in his hometown of Wellesley, and is currently counsel to the Wellesley Conservation Council.
Neal B. Glick can be reached at 781-997-1600 (x261), 781-997-1579 (direct) or nglick@kcl-law.com.