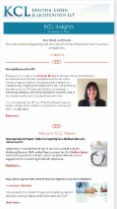 The latest issue of KCL Insights includes:
Attorney Andrew Hyams' Advice for Applying for a Medical License in Massachusetts
September 22 marked the first day of Fall and a successful end to the Spring/Summer 2016 medical license season for all of Andrew Hyams' clients who applied for licenses. Read More…
Hey, I Never Signed That Contract! Now You Want to Force Me to Arbitrate?
Can one party to a contract compel a non-signatory party to arbitrate a contract dispute under Massachusetts' law? Let us use the following hypothetical as an example: A single member LLC  Read More…
KCL Client is Entitled to Termination of His Alimony Obligation Under Alimony Reform Law of 2011.
E. Steven Coren successfully argued that KCL's client was entitled to termination of his alimony obligation after paying 19 years of alimony under the new Alimony Reform Act. The case was heard and decided in the Worcester Probate and Family Court under G.L. c. 208, §§ 48 and 49. The Court fully adopted KCL's argument in its Order. Read More…